Resmed AirFit P10 Nasal Pillows
The ResMed AirFit™ P10 nasal pillows mask is our quietest mask yet, delivering the performance and reliability of the popular Swift™ FX mask series in a design that's approximately 50% quieter and 50% lighter.1Engineered to encourage patient acceptance, the AirFit P10 provides a stable seal, excellent usability and extremely high level of comfort, with a QuietAir™ vent that gently disperses away expelled air at a barely audible level. A recent clinical study also found that patients received more than 40 minutes of additional sleep per night using the AirFit P10 compared to its predecessor.2 It is so comfortable and effective, it won a world-coveted Red Dot Award for excellent product design. Available in For Her version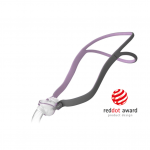 Quieter. The AirFit P10 is ResMed's quietest mask yet at just 21.4 dBA, making it approximately 50% quieter than our leading nasal pillows mask.1
Lighter. The AirFit P10 supports patient acceptance thanks to ease of use, lighter weight and greater comfort. It's also approximately 50% lighter than our leading nasal pillows mask.1
Low-profile. The new QuietAir™ woven-mesh vent is designed to gently direct air away from patients and their bed partners.
Stable. The innovative headgear design gently stabilizes the mask and pulls the pillows comfortably into place.
Easy to fit. QuickFit™ auto-adjusting headgear can be fitted in 30 seconds or less, making it easy for patients to slip on and off.3
Intuitive. The simple sizing and one-click action makes it easy to assemble and clean the mask, encouraging patient compliance. Each pillow size features a different color for easy patient identification and ease of use: pink (extra small), clear (small) gray (medium) and blue (large).